Aynalem
Beles Sugar Project, Ethiopia
In Ethiopia, the youth is more and more educated, but they struggle to find adequate jobs. Will Beles Sugar project and similar big investments contribute to solve the problem?
This is the photo of my graduation. I have a 10+3 certificate in auto mechanics. Education supported me in getting the job, in saving money. I moved from my home village, where there is no job for educated youth. I have three sisters and six brothers but none of them attended school. My parents supported me by selling sugar cane, mango, papaya, avocado and the like. Thanks to my education, I was able to move from that rural area. In the Sugar Project, the majority of the workers who came from other areas like me are educated. They have completed grade 10 or above. However, the indigenous people and those who came from Wollegga are not educated.
I firstly saw the vacancy for working in the Sugar Project advertised in Merhawi town. To apply you needed to have education of grade 10 and above. The Micro and small-scale enterprise expansion office registered those who were looking for this job. They gave us some explanation about the Sugar Scheme and the different types of jobs they were offering, like store keeper, labourer…  However, when we started, the initial job was planting sugar cane. Our hands were swelling. I have been working in the scheme since 2013 but I am still a daily worker. The pay depends on the type of work: for planting sugar cane I get 3,800 birr per month, while for weeding I earn only 1,800 birr.  The type of work also varies seasonally. For instance, next June I will be involved in planting.
However, in the future I hope to get a permanent job in the Sugar Project related to what I studied.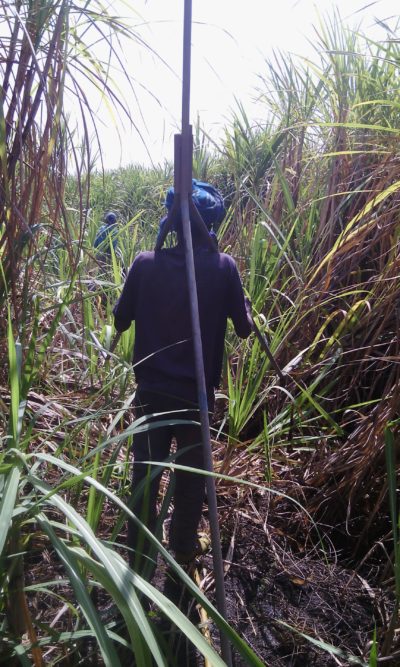 In the Sugar Scheme the work is organised in a hierarchical order: there is the supervisor, the foreman and the headsman. In our case, the supervisor and headsman are women. They assign the workers to different types of activities. Activities change on a weekly basis: for instance those involved in firebreak in one week will be involved in weeding the week after.
Since last year we adopted the Kaizen system. It is a Japanese system for continuos improvement: for instance, we were asked about our needs that have not yet been fulfilled yet. We asked gloves and we got them. We also raised the issue of payment delays. They told us that each team payment order is based on a lottery system and that it was a matter of chance. But later they improved it and we started to get our payment on time. On average, a team of 10 workers has two representatives. These representatives meet with the workers every Wednesday to hear about their needs and to report them to the project management. We write down ideas, opinions, needs and we sign the paper and submit it. For instance, we made requests about health care, medical services, and insurance in case of accidents.
Temporary workers can become permanent employees if they work in the sugar scheme for about four years. In case of a vacancy announcement the temporary workers can apply and in theory they should get priority. But once there was a vacancy in the field of car mechanics, the topic I studied. But when I asked them, they told me that the job was in the garage and that it is was not good for women.
This photo shows the materials that we wear for safety. We wear a scarf on our head to cover our ears and nose, otherwise the grass can enter in. We also use simple clothes to protect our eyes. We wear gloves so that our hands would not be damaged or injured. The gloves protect us only from tiny grass, big grass can tear the glove. Sometimes there are incidents. I was injured on my finger. I cut it with the sickle and it took me a long time to recover.
We bring our own sickle. I bought it for 100 birr since the project does not provide us with this material. We request the factory to provide us complete uniform, including shoes, but still they did not give it to us, only to senior workers. They provide gloves once per week. We use glove to push sugar cane so that the sprinkler can work smoothly and thoroughly.
In the sugarcane field there are different wild animals, like snakes and hyenas. I have also heard about some cases of harassment of female workers while they were working in the sugarcane field. I heard that a girl ran away when one man tried to abuse her. Female store keepers also face the same problem.
Since I got the job at the Sugar Scheme I am independent. Since my husband also started working in the Sugar Scheme, we could afford buying land and building this house, which costed us 15,000 birr. Yesterday we also bought two cows and one calf for 13,500 birr. The cows are pregnant. So, I am planning to start rearing caws like dairy farming as additional work. In the evening, when I am back home from the Sugar Scheme I feed the cattle. In addition, upon request I also prepare handicrafts to decorate the house, like for example table clothes. From this work I get about 500 birr in two months.
When I came to this area I came empty-handed. I only had three birr. It was after I started working at the Sugar Scheme that I could buy the household tools that I needed at home. I bought most of these tools last summer. In order to furnish my house I spent 7,000 birr. Whenever my neighbours have some feast they borrow some household tools from me. This makes me happy, as I did not have them before and I was borrowing these tools from other neighbours as well.
Just like me there are some workers in the sugar scheme that have been improving their living conditions. But if you live in the workers' camp you cannot save money: they deduct from your salary 15 or 20 birr for the meals every day. And the living conditions in the camp are not good.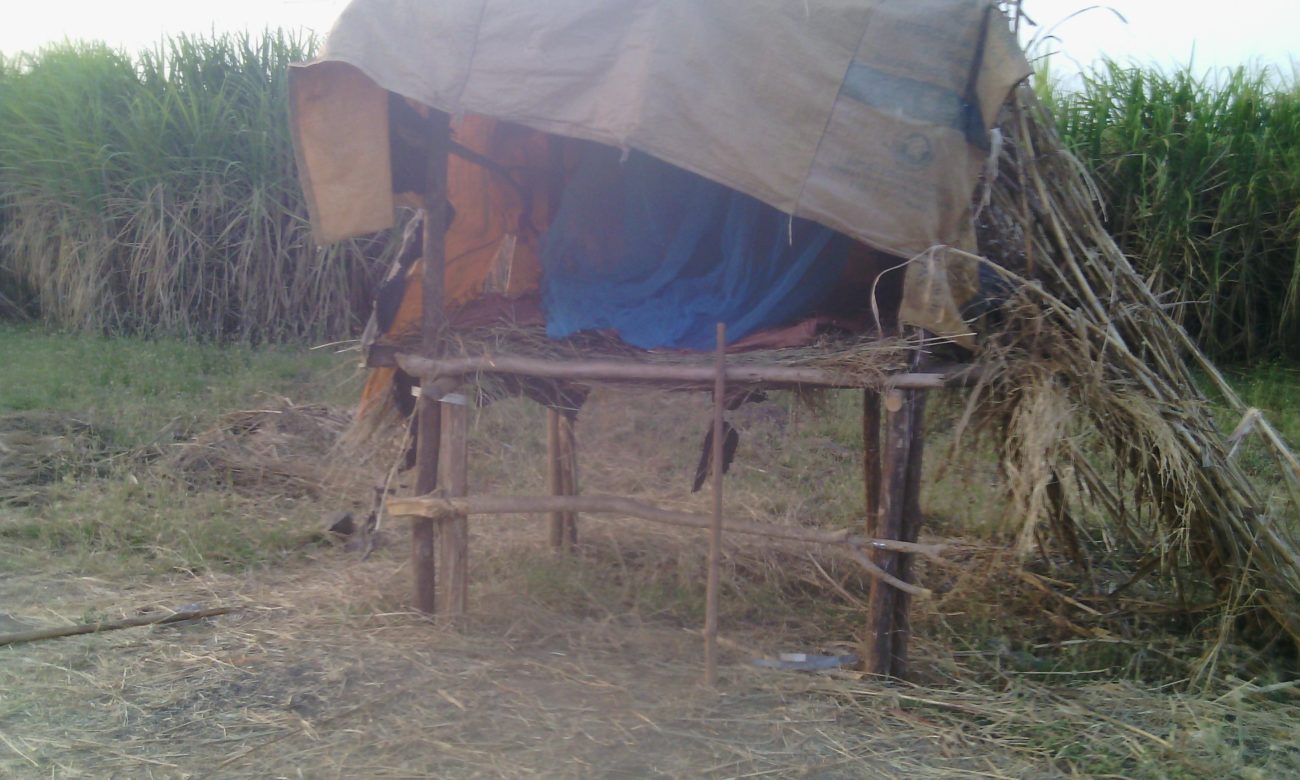 This is my picture, while I am guarding the sugar cane. I have a coat to protect myself from cold and a stick for wild animals. I work from 5:30 pm to 7  in the morning. I guard 30 hectares of land with my friend who also guards 30 hectares. We sleep together in the same room. The Sugar Project provides a bed net, but we had to build the place in the picture by ourselves.  I have been doing this job for two years. Before that, I was weeding and watering the sugarcane, but that was a seasonal job. The maximum payment for weeding was 1,800 birr and the minimum 1,300 birr per month. For watering, the maximum payment was 1,993 birr and the minimum 1,500 birr per month.
As guard you get 1,123 birr per month. The main problem is when people come to steal the sugar cane. Once I found three people cutting the sugarcane at night. They were also daily labourers working in another area of the scheme. I told them to go away, but I did not report the case fearing the repercussions. I do not quarrel with people if they admit their mistakes. The other challenge I face are the hyenas. I see two or three of them every night. But I do not have a gun, only my big stick.
There are no female guards, only men. Working as a guard allows me to do another job during the day. It might also help me to get a permanent job in the Sugar Project, being a person who worked for a long time in the project. I want to be employed according to my education level, which is 13,000 birr per month. Now I am not happy. The salary is not enough. It is even not enough for coffeee and tea expenses.  That's why I am doing additional work, transporting and selling goods from a cart.