Yasmine Hafez – Nile wetlands blues
Nile Basin
In the past few years, I have been studying and staying in different wetlands along the Nile to learn about environmental changes and social struggles by the local communities. This story focuses on the birds I encountered through this journey. Focusing on birds was not the original plan for my PhD research. However, I learnt that the paths of migratory birds transcend state borders and rigid conceptions about the river, and could therefore be used as lenses to understand the socio-ecological struggles and challenges in the wetlands along the Nile.
The video shows the birds observed during the fieldwork. They encompass diverse sites from the Nile in Jinja in Uganda and Qanater ElKhayreya in Egypt to Lake Victoria in Kisumu in Kenya and in Ssese island in Uganda and lake Mariout and Lake Burullus in Egypt. (Not in that order)
It all started at 6 am in Jinja (Uganda), when I did my first birdwatching with a former fisherman who later taught himself birdwatching, Kibiina. Kibiina originally comes from Ssese island, he grew up as a fisherman, which was clear to be the case since 80% of his family were fishing community including uncles, cousins etc. However, he said: "At some point I thought it was time to retire from fishing decided to come here in Jinja and do some tourism.
"I thought I would do another activity away from water but found water was easier. Using my boat, I decided take people for bird watching." A few weeks later in Uganda, I visited Ssese island where the fishermen expressed to me their suffering and uncertainty due to the decline of the number of fish and their struggles to survive in order to sustain their families. I then realized why Kibiina had searched for birds as an alternative source of livelihood.
Through the trip, Kibiina explained through his everyday livelihood in Jinja the relation between the birds journey, the geography and the weather. In this short recording he speaks about the effects of the rainy and dry seasons on birds movements.
Few months later during my fieldwork in Egypt, I met Dr. Sherif Baha Eldin (co-founder of Nature Conservation Egypt and author of "A Guide to the Reptiles and Amphibians of Egypt and Common Birds of Egypt"), Khaled Elnoby and Haitham Mossad from Nature Conservation Egypt (NCE). Egypt rests at the heart of the trajectory of African–Eurasian flyway of migratory birds. According to BirdLife International, Egypt has around 34 of Important Bird & Biodiversity Areas (IBAs), same as Uganda, while Kenya has 68 of those. Egypt has 377 bird species, while Uganda has 998 bird species and Kenya has 1,057 bird species. NCE being the representative of Birdlife in Egypt had been working on the illegal hunting for migratory birds in their hubs and especially wetlands throughout Egypt. Their passion to their work, doctoral studies and winter count led them to focus on the loopholes in the migratory paths of birds; the trapping nets that are set by hunters or sometimes former fishermen along three quarters of the delta coast. This kills nearly tens of millions of migratory birds yearly.
(2) Picture of Birds' world book written by Mandy Baha Eldin and Gamil Abdel Mawla Atta, illustrations done by Sherif Baha El Din and Robert Ract given by Camp Burullus during one of their trips.
The next pictures show birds that were seen in the birdwatching trip in Jinja (Uganda), some of which are also seen in Aswan (Egypt).
(4) Little Egret, Jinja Uganda, February 2022, photo by author.
(5) Pied Kingfisher, Jinja Uganda, February 2022, photo by author.
(6) Pied kingfisher in Aswan (by Haitham Mossad)
(7) Pelicans, Jinja Uganda, February 2022, photo by author
(8) White pelican in Aswan (by Haitham Mossad)
(9)African Open-Bill to the left and Long-tailored cormorants to the right, Jinja Uganda, February 2022, photo by author.
(10) Long-tailed cormorant, Jinja Uganda, February 2022, photo by author
(11) Geat Cormorant in Aswan (by Haitham Mossad)
(12) African pied wagtail, Jinja Uganda, February 2022, photo by author
(13) African pied wagtail, Jinja Uganda, February 2022, photo by author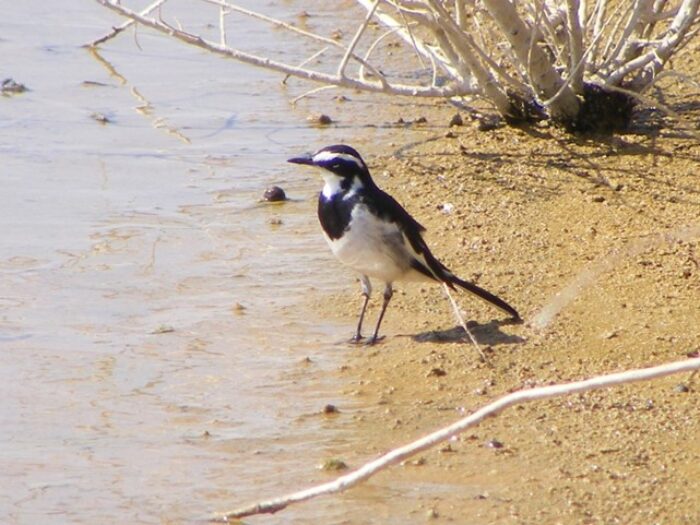 (14) African pied wagtail in Aswan ((by Haitham Mossad)
(15) Openbill, Jinja Uganda, February 2022, photo by author
(16) Village Weaver, Jinja Uganda, February 2022, photo by author
(17) African Jacana, Jinja Uganda, February 2022, photo by author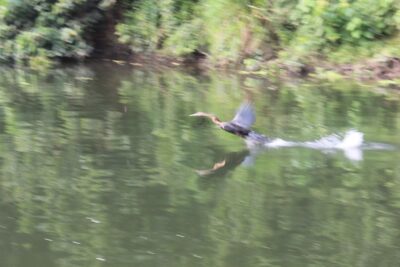 (18,19,20) African Darter, Jinja Uganda, February 2022, photos by author
(21) Purple Heron, Jinja Uganda, February 2022, photo by author
It goes without saying that the wetlands are integral to sustain human lives, and one could not dismiss the colonial historical roots of birdwatching activities. I capstone on the birds in this piece just to challenge our perceptions about what brings countries sharing Nile to each other, away from water to stories about the diversity of waterscapes and species, and most importantly the livelihood experience that integrates with it.
Linking the wetlands and the Nile challenges our constructed perceptions of the river, environmentally and socially. Observing birds as common unit between the Nile countries only appears when we focus on wetlands in the Nile. This also applies to thinking and drawing analogies between fishermen in the different wetlands who are usually not included or silenced in high level Nile hydro-poltics debates. Wetlands allow us to see environmental and socially vulnerable lives and push us to think about connections and dynamics occurring in nature.
In Uganda, fishermen found in birds an economic value for tourists' birdwatching, where fishermen in Egypt, had been also pushed by their socio-economic situations to hunt the birds for survival. We tend to disregard wetlands when we speak about the Nile, and we also tend to center our studies around human being unseeing the diverse species that interact with humans. Wetlands allow us to observe and study to understand environmental diversity, risks and challenges, as well as common links between the Nile countries.
Acknowledgements:
Story written by Yasmine Ahmed Abdelaziz Hafez  (y_hafez@soas.ac.uk
Videos and pictures are credit of the author unless stated otherwise.
Special thanks to Khaled Elnoby and Haitham Mossad, Nature conservation (NCE) for identifying the birds' types for this piece.
Special thanks to Olivia Nantaba, Zeph Migeni and Islam Khafaji for their support and company during lots of parts in the fieldwork, and Watter Albahry for his incredible birdwatching trip in Qanater ElKhayreya.
Number of IBAs and birds' species data from BirdLife International
The NCE report is available at this link.