Om Amira is the widow of a graduate farmer (kharigeen) who inherited five feddan of land in the village of Tarek Ibn Ziad. The villageis located at the tail end of the Talta canal. She has four children and is struggling to be strong and keep her family together and secure her family's livelihood, just as her deceased husband was trying to do. The people in the village know her by the name of Om Amira, which indicates that she is the mother of her eldest daughter Amira, as is customary in Egypt.
Om Amira felt the responsibility not only to continue making a living for her kids, but also to take care of the piece of land that her husband left her. He always encouraged her to realize how precious this land was. Om Amira's husband used to ask her: "what weighs more? One meter of land or one meter of gold", and before she answered, he would tell her that a meter of land of course was of more value. Her son seems to have inherited the concept of the 'preciousness' of inheriting land from his father, and he wants to continue working on it, as this would be better than graduating with a degree and not finding a job, he explains. His father was a graduate, and the government provided land and a house for all the jobless graduates at that time in order to compensate for the fact that they could not find a job.
Om Amira explains that their life was almost impossible when they first came to the graduate village 22 years ago (1995). They moved to a harsh environment where no services were provided for the villages at the time of settlement. "No water and no bread", she says.
Drinking water was only introduced seven years ago as part of the East Delta Agricultural Services Development Project, before that they depended on trucks. The government initially also used to help new settlers by bringing in oil, margarine, and duck, but this support stopped already 13 years ago. The other most basic services, such as education, health services, came to the area only very gradually. The settlers literally had to set up a new livelihood from scratch.
When her brother came and visited her in the beginning when they had settled, he told her husband: "if my father sees what his daughter has ended up living like, he would divorce you from her immediately". She always complained, she elaborates, to her husband that they lived in a remote place far away from their family members. Om Amira complains about some of the problems in the area, but she does not seem to be willing to leave the village. She always mentions that she is astonished of those graduates who sold their "precious" piece of land and left the area.
In order to support her family after her husband's death in 2013, Om Amira sometimes plants vegetables and goes to sell them on the market or even to her neighbors. When she does not have vegetables, she sometimes buys some from her neighbors and goes to the big market to sell them.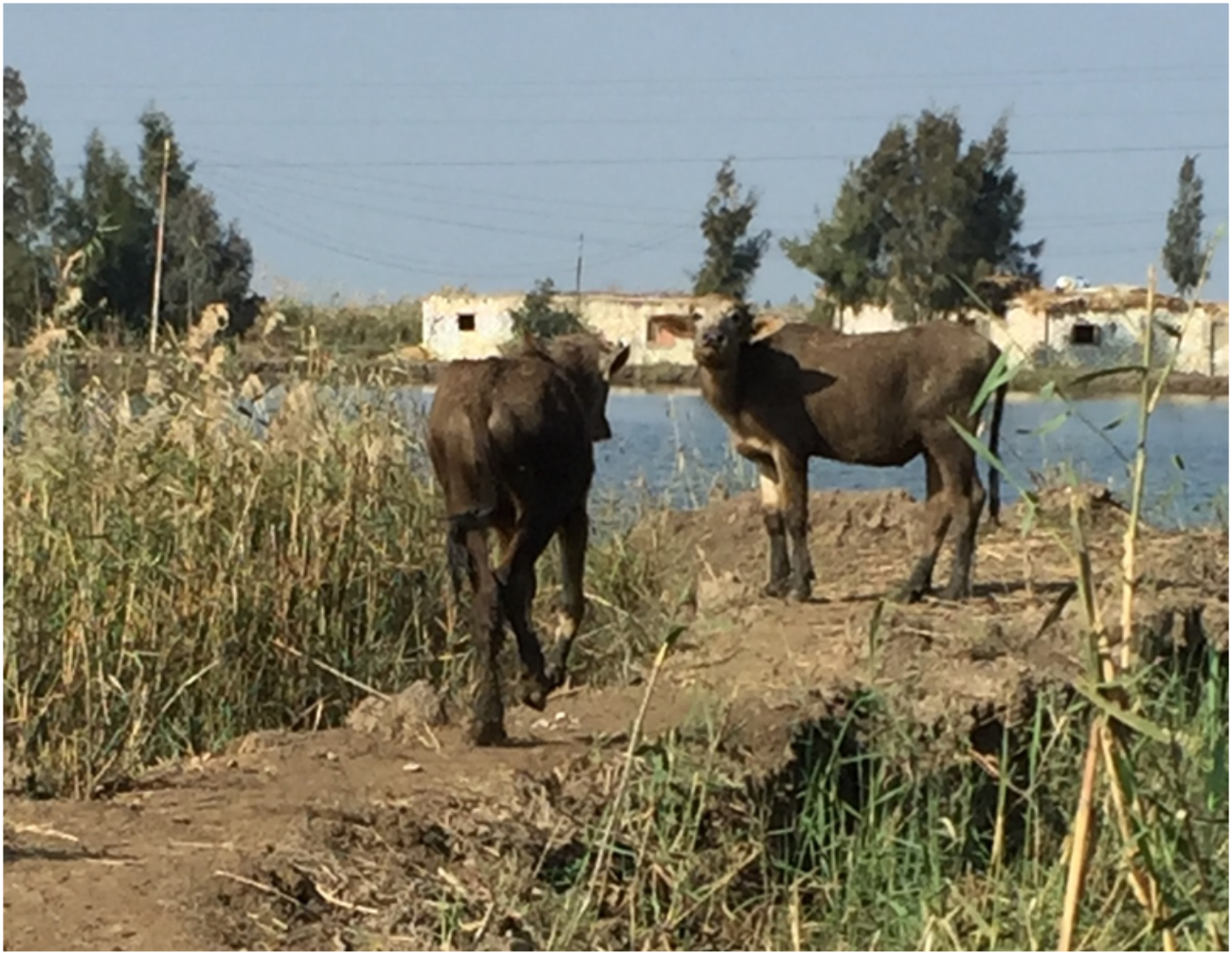 She also takes care of the livestock that they have, which consists of some buffalo, cows, chickens, and ducks. She sometimes even sells cow milk and is very proud of her milk and the fact that the neighbors seek this milk specifically because of its good quality.
Om Amira's children often visit their family relatives from their father's side in Cairo. She always makes fun of this by saying "they have a different accent from me, they speak the modern Egyptian accent of the Cairo area". Om Amira herself thinks she has what she calls the "farmers' accent", since she does not visit that much and is therefore not exposed to other Egyptian accents.
To Amira the construction of the Salam Canal was only a temporary dream. For her the canal was only useful during the first two years of its operation, when it provided enough water to the tail end of the Talta branch canal. Thereafter the water did not reach the the area anymore in the critical periods. Now, almost everyone here is using water from the Bahr El Ba'ar drain, to which the people together made a connection for this purpose.