Noel
Sudan, Waha Irrigation Project
Noel is the most talkative of a group of women from El-Hosh who's working for wages for an investor from Madhi like Fati. The investor rented the land from other people from Madhi who left farming. He uses the land for cultivation of Sorghum-70,  a type of sorghum used for fodder. Noel is spreading organic fertilizer over the land before planting.
El-Hosh is known as a 'pastoralist village' some 7 km inland from the river which is much poorer than Madhi. While many families in El -Hosh still have cattle, nowadays women like Noel are now the main workers on the smallholder plots that are under control of Madhi villagers. To Noel it was only logical that the people of Madhi claimed ownership of the rainfed lands and that they were compensated for it by the Cooperative when they built the irrigation scheme. Like Amar, she mentions Madhi village's proximity to the river and long term involvement in irrigation (from the river) to explain the close relations between the people of Madhi and the government. The relations between the people of El Hosh and Madhi are cordial yet unequal: "while we provide them with work on the land they provide us with teachers" Noel explains. While it is common for younger/unmarried women of El-Hosh to work on the lands of Madhi, the men of El-Hosh now involve in higher paid wage work or business in Khartoum.
When COM took over the Cooperative they broke down most of the old the irrigation system. COM's caterpillars bulldozed the rectangular grid they had prepared 25 years earlier to replace it with a fenced irrigation scheme with  more than 100 pivots. The minor canals of the old scheme were demolished up to the fence and replaced with a zig-zag pattern between the pivots. At the tail end they were connected to the remainder of the smallholder irrigation scheme which contained plots that of people of Madhi. The plot on which Noel is now working is supplied with water through pumps and main canals which are now controlled by COM.  ENCOUNTER 2.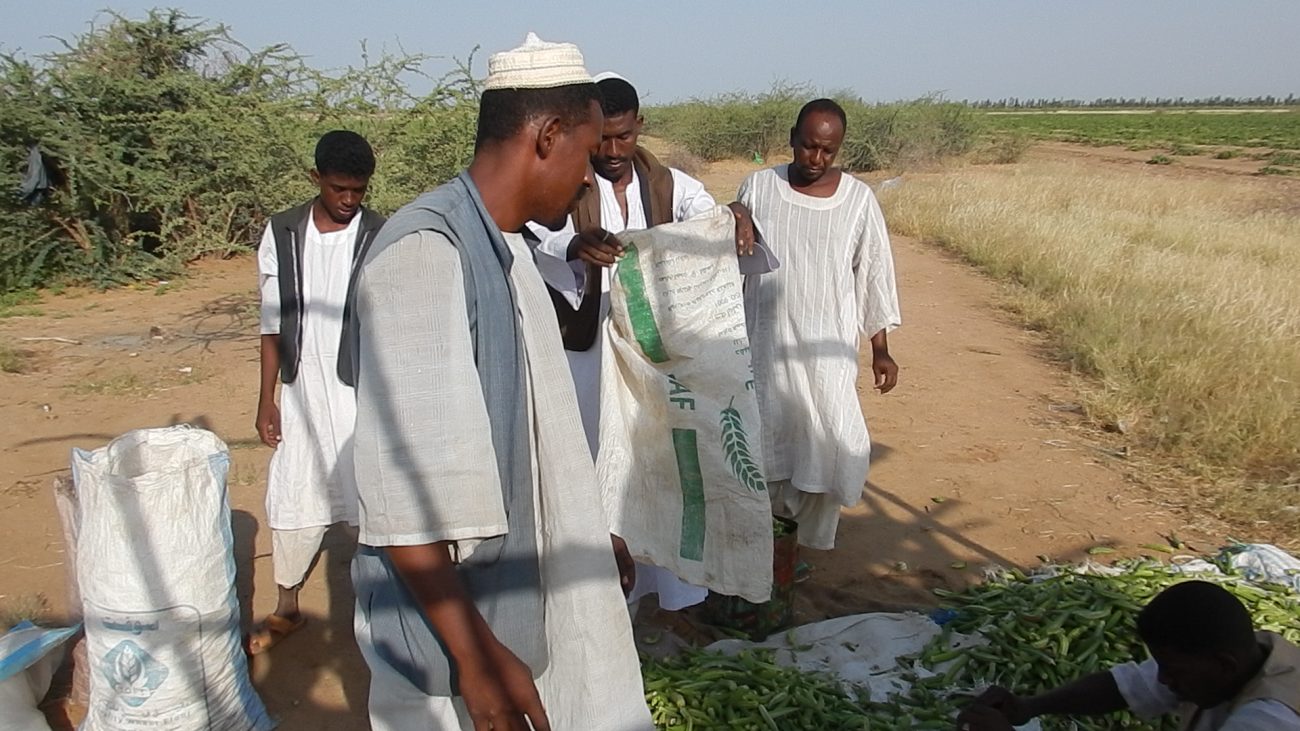 As the Cooperative is no longer investing in agriculture as envisioned by Yasir and Amar, a new investment model has emerged in which people from Kutranj select their crops based on their availability of capital and expected water provision. ENCOUNTER 3 Around half of the smallholder plots it is rented to investors  like Fati, who employ fseasonal laborers from Hausa (Nigerian, Chadian, Darfurian) descent for its cultivation or female laborers from El-Hosh, like Noel.
During the cultivation seasons Noel starts her 10 km hitchhike to the scheme after the dawn prayer at around 5 AM  which takes her between 1 and 2 hours. She usually works from around 6.30 until noon for 30 SDG (2.5 $). Because the salary is low men do not want to do this work. Noel does the work because it gives her control over her own money. Noel does the work because she can earn her own money with it. She stresses that the work is hard but that it has brought her a better life.
Like almost all in the village Noel's position in the grain market has fundamentally changed over the past 20 years ENCOUNTER 4. Gradually she shifted her consumption to bread and packaged sorghum. She prefers to buy the Zadna packets from COM because it lasts longer and is of higher quality. She is not alone in this: virtually all in Madhi and El-Hosh eat sorghum and wheat processed and sold by COM for at least part of the year. In the summer Noel spends more than two working days' wages on 10 packets of sorghum and bread she buys every week. Over the past two years sorghum prices have doubled and bread prices have increased at least one third while her wages only got up from 25 SDG to 30 SDG. Like many in the village her family now complements their income with money earned in Khartoum and remittances send from the Gulf. The son of her brother sends her some 200-300 SDG from Saudi Arabia every month.
Picture: Al Arabiya 31 November 2015
COM's position in the grainmarket is powerful yet contingent however. Over the past few years the changing Sudanese grain and bread markets have put both Sudanese consumers and COM under pressure. While Sudan's income from oil exports enabled the government to keep in place subsidies when food prices rose worldwide, this was no longer possible after oil rich South Sudan seceded in 2009. Since they removed subsidies on oil and wheat the bread price has doubled.
When the government increased the exchange rate at which COM imports wheat from 2.4 to 4 SDG (still well below the official value of 6 SDG and the black market value of 8 SDG at the time) COM claimed it could no longer make a profit and halted its mills.
Noel's cousin tells us that some bakeries in Medani and Khartoum were offering only 1 bread for one pound at the time and how this led to riots in November 2015. While he clearly attributes the price hike to Osman (COM), for him Osman is not to blame as he is just a clever businessmen. For him the riots are as much about food prices as about broken promises for land by both companies and the government, crooked deals and favouritism through which officers managed to claim the lands on which the millions now fed by the World Food programme once depended for food or work.