Mahmoud
Salam Canal, Egypt
Mahmoud is a sharecropper and manager on Hag Omar's 112 feddan land on the southern bank of the Salam canal. Mahmoud originally comes from a nearby area in Sharqiya (South of the Salam canal area). Like many farmers working on these 'new lands' he moved in from the surrounding 'old lands' on which the land pressure is high. Mahmoud and his family now live half way the branch canal where they have a piece of land. Mahmoud comes to Omar's land every day on a motor cycle to manage the farm.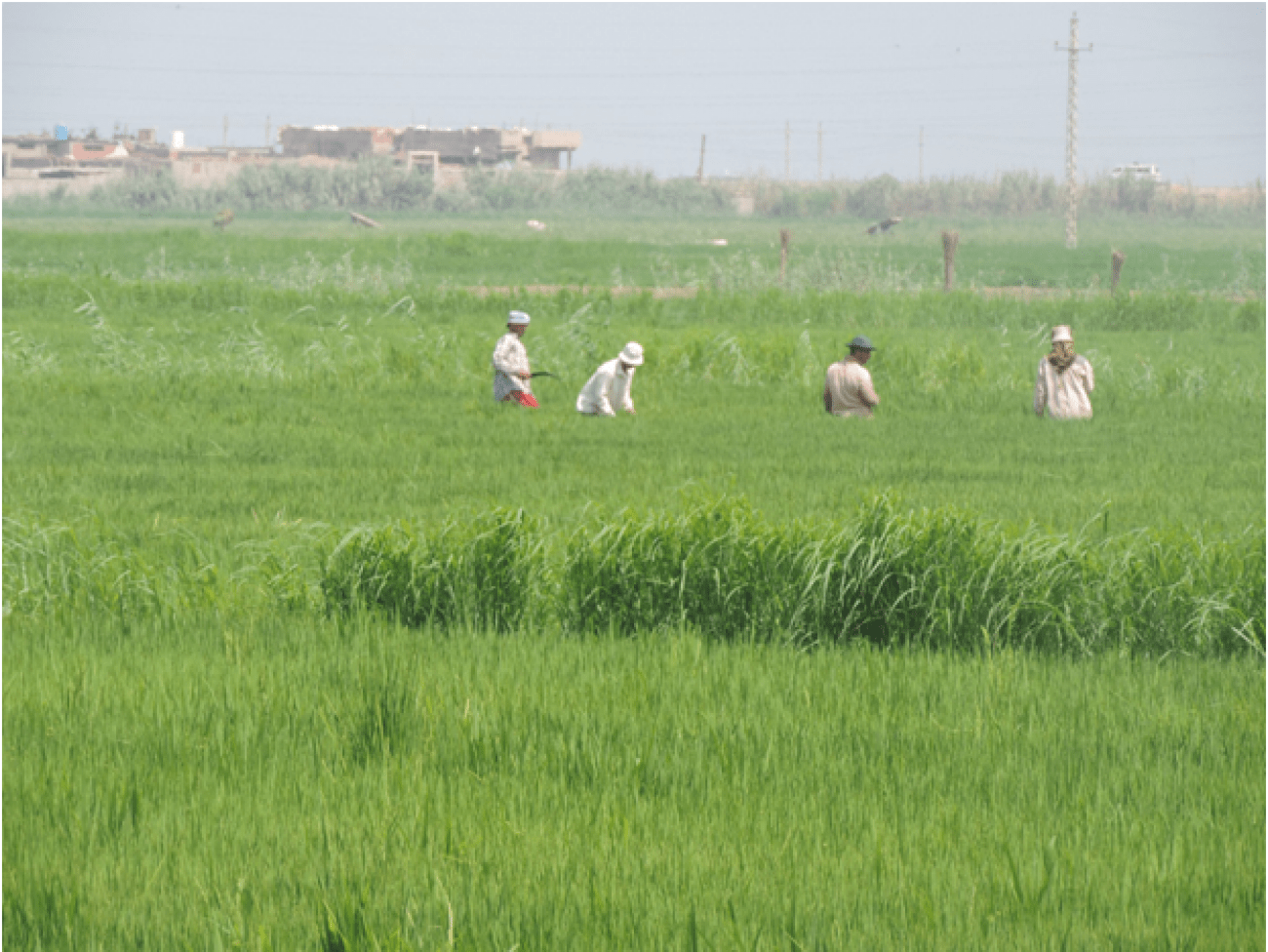 Six farmers are sharecropping the land. Omar invests in the land by providing them with land, water, seeds and fertilizers through Mahmoud. The share-croppers often work together on the land. They take 1/3 of the crop harvest.
Hag Omar is from a landholding family. He is educated in business management, and has a computer company in Cairo, where he is currently living. In 1990, he bought this land at a  favorable location near the canal head as an expatriate investor. When he bought the land,  he paid to the government, but also a small amount to the Bedouins who had settled on this land much before with fish ponds.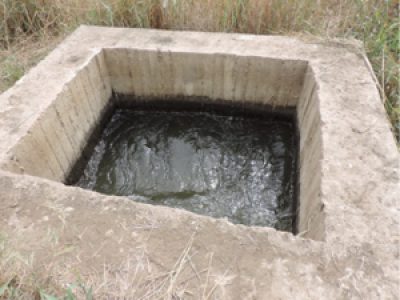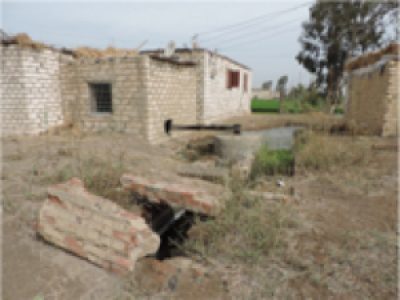 The land at the head of the branch canal is irrigated from two sources:
A regular inlet from a sub branch, south of the land. In spite of the head location, there are problems with water quantity and quality. The water is sometimes mixed with drainage/waste water from the tail. Also the quantity of water is limited in the critical summer period.
A direct intake from the El Salam Canal. This brings water in a pipe across a major drain to the land. Hag Osama organized the surrounding producers to apply and pay for a direct intake from the Salam canal. This special inlet is the life line of this area and indicates a privileged water access.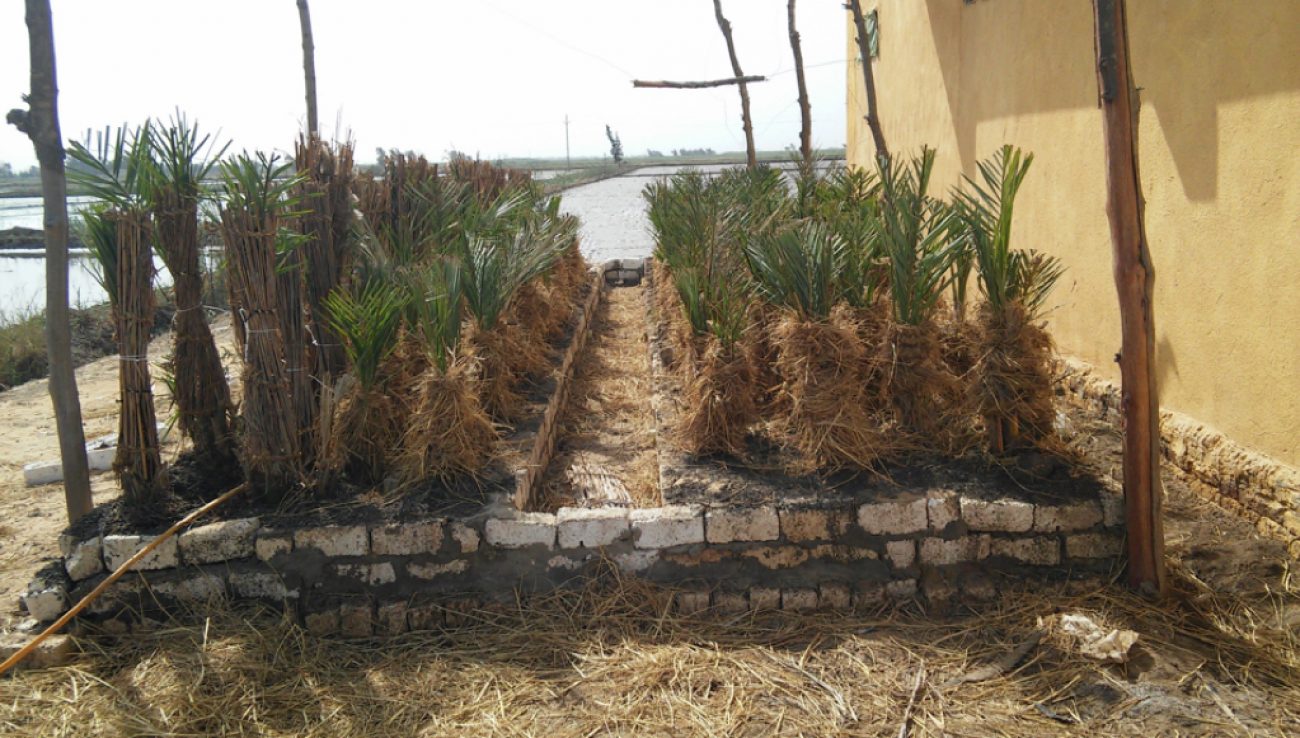 Hag Omar has been very keen to invest in improving his lands. He is skillful, educated and determined to acquire the support of (inter-) national research institutions. His farm became a demo-site for agricultural innovations to reduce soil salinity, including sub-surface drains, soil amendments, ammonia injections, new rice varieties, palm trees around land, etc. In the area, these are optimal and privileged production conditions.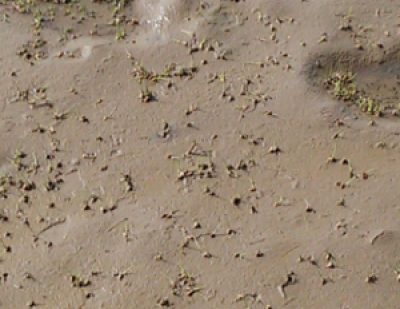 Ideal irrigation and production conditions: levelled lands, leached and drained clay soils (sub-surface drainage) reducing salinity, suitable for direct rice seeding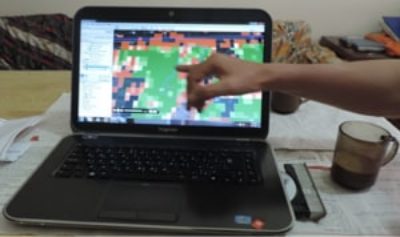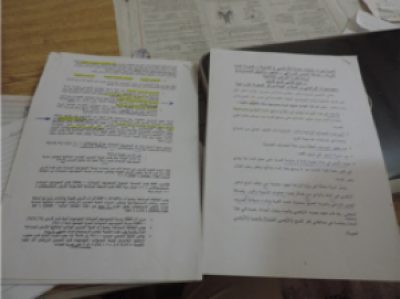 Omar has built a house and office on his land for when he comes from Cairo every 10 days. This is where he and Mahmoud also keep their administration of the crops, varieties, yields, machines, laborers, payments, innovations, etc. This is where they discuss agricultural results and improvements, issue orders, but also rest, pray, drink tea, and chat in between. Unlike the houses around, the house has a piped drinking water connection and a toilet. Under the porch and in the house guests from outside can be invited.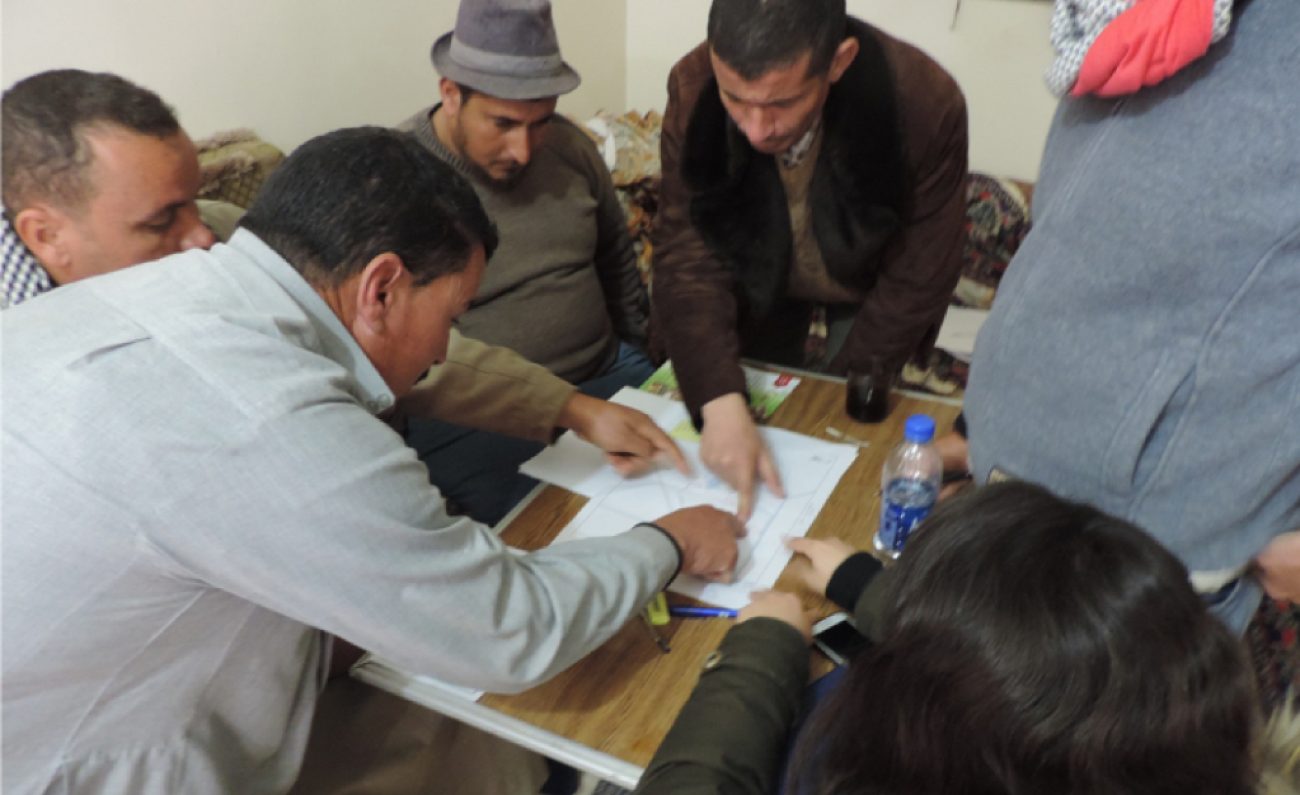 Share croppers discussing production conditions in the Salam canal area
Because of the work, Mahmoud does not spend much time with people in the area sitting, drinking tea or smoking shisha. People are busy and "everyone here minds his own business". As there are not too many people living nearby in this investors' area of the canal, people do not really know each other very well. Also, he returns to his family house after finishing his work every day. In spite of this social fragmentation, weddings are an important integrative mechanism to which many people go.
A wedding is a large social event that brings together the entire neighborhood. If there was a wedding in the immediate neighborhood, Mahmoud says he would attend it, even if he did not know his neighbors very well. Everyone would go, as these wedding were big, open events. People are invited via microphone and there is even a notebook for people to sign in after paying money for the bride and groom (No'ta- ????). It is seen as a social shame not to turn up to the wedding and contribute financially. Arabs do not let their daughters marry farmers. Mahmoud added a popular saying about this,"?????? ??????? ???????? ???? ". Its literal meaning is: It is better for the girl to be eaten by a crocodile rather than getting married to a farmer.